"I've been guiding successful trophy black bear hunts in southwestern New Mexico in the Gila National Forest since 1984. Let me guide you on your next trophy black bear hunt in southwest New Mexico. Call Gary Webb Guide and Outfitter for your next trophy black bear hunt!"

-Gary Webb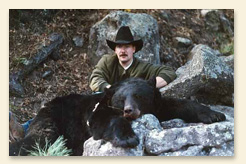 New Mexico is one of the few western states in which black bear hunting with hounds is allowed. Although they are called Black Bears, the bear in the Gila, come in a variety of colors from blonde, cinnamon, chocolate to coal black.
Our primary method of hunting black bear is horseback with hounds. These hunts are during the fall time of year in the Gila National Forest of southwestern New Mexico. Bears will congregate where ever the most available food source is. They eat acorns, juniper berries, prickly pear apples, wild strawberries and raspberries, along with grubs and any thing else they can scavenge. Mature black bears will weigh from 250 to 400 pounds depending on their food source.
This is a very exciting hunt through some of the most spectacular country in the southwest. We recommend you be physically fit and come prepared for long days in the saddle through rough country.
Click HERE for more information and pricing on Black Bear Hunting in New Mexico
"My dad and I started hunting "out West" in the late 70s with trips for elk to Montana, Idaho, Colorado and New Mexico. In 1991, we hunted with Gary and Julie for the first time. Their personal dedication to making absolutely sure each hunter has an excellent experience sets them apart from all other outfitters we have utilized. As a result, we have hunted southwestern game (including elk, deer, black bear, javelina and lion) with them exclusively for the past 18 years.

My father and I have been very fortunate to have hunted Africa seven times including most recently directly on the Serengeti plain. I can say without hesitancy that we have never had a better time than hunting with the Webbs.

-Sean Yutzy, Albuquerque, NM