"I've been guiding successful trophy elk hunts in southwestern New Mexico since 1984. Let me guide you on your next southwestern New Mexico trophy elk hunt. Call Gary Webb Guide and Outfitter today to schedule your next trophy elk hunt!"

-Gary Webb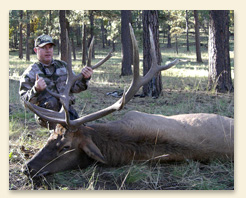 We offer a variety of trophy elk hunts in New Mexico. Our New Mexico elk hunts range from Fully-Guided wilderness elk hunts to our "Elk Advantage" do-it-yourself type hunt, to our "Elk Advantage Plus" hunts. These elk hunts range from 5 to 6 days depending on which trophy elk hunt you are interest in.
The bulls here in New Mexico usually start rutting the first week of September and are still bugling through the middle to the end of October. They will sometimes still be bugling during the last rifle elk hunt. It always makes for an exciting hunt when they answer your call!
Wilderness Rifle Elk
Wilderness trophy rifle elk hunts are in southwestern New Mexico in the highly acclaimed Gila and the Aldo Leopold Wildernesses. Unit 16 B encompasses both the Gila and Aldo Leopold Wildernesses and is famous for trophy bulls. These wilderness hunts are for quality trophy bulls. These trophy rifle elk hunts start in October.
Click HERE for more information and pricing on Wilderness Rifle Elk hunts
Wilderness Archery Elk
Wilderness trophy archery elk hunts are in units 16 B and 16 C of the Gila and Aldo Leopold Wildernesses. Both units are famous for trophy bulls and low hunting pressure. These are wilderness hunts for quality trophy bulls. These trophy bow elk hunts start in early September during the rut.
Click HERE for more information and pricing on Wilderness Archery Elk hunts
"In over 50 years of hunting big game, this was the most enjoyable guided hunt I have experienced. Gary and Julie Webb, along with their hard-working son Bonner, are absolute professionals who run a comfortable camp with plenty of great food. They bring solid and nearly bombproof stock and a cool determination to ensure the hunter's success at harvesting quality game. If you are looking for a memorable wilderness experience at a bargain, this is the hunt to draw for."

-Kim Oeck, Paso Robles CA