On any horseback or pack-in type elk hunt, the livestock being used is hands down the most important equipment you have.  They are definitely the most valuable players. Without good livestock, any wilderness elk hunt would be impossible.  We not only use them to pack in the camping equipment, but it allows us to get our clients into areas that would be extremely difficult to do by foot.  If we're successful, they get the trophy out before it spoils.
We don't use any leased stock.  All the stock we use is personally owned and trained by us. They're safe, surefooted, gentle and know how to do their job.  We've also know that we must have an ample number of stock to do the job in a timely and professional manner.  When you have several bulls to pack out to the meat cooler, you need enough animals to get the job done.  It takes 2 pack animals to pack out 1 bull elk, in addition to whatever animals are needed for the hunters to get out themselves plus their gear.
Dealing with livestock is a lot of work and it begins months before the hunt ever begins.  Training, shoeing, feeding and daily care is an everyday job.  Taking care of livestock in a wilderness situation is one of the most important things we do.
The amount of preparation done prior to the actual hunt is what determines the success of any hunting trip.  Julie and I figure it takes about 20 loads of gear, horse feed, and groceries to take care of 6 clients.  This is not including everyone's personal gear.
A prime example of preparation paying off was our 2014 rifle elk hunt.  On a five day hunt with 6 hunters, we were able to harvest 6 good bulls and get the hunters, their trophies and their gear packed out.  The entire camp was then packed out the day after the hunt.  Another 100% success rate.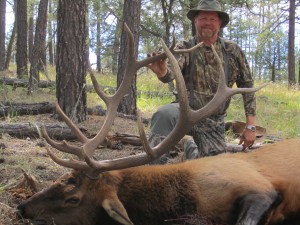 Pictured is Larry Hodnett from Texas with his trophy bull elk. His son Jeremy also killed a nice bull elk.  Congratulations Larry and Jeremy!