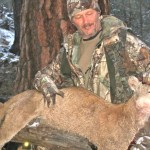 It had been a good week.  Myself and client, Ralph Collins of Ohio, were down to our last day.  We'd found sign of several different lions, trailed one just about every day and had even found a couple of old kills, but we just couldn't manage to get one treed.
Ralph is a great guy, alway enthusiastic, interested in every aspect of the hunt and willing to do what ever it takes.  About midmorning on the last day, the hounds started trailing a lion that had come through a low saddle not to far from the truck.  By early afternoon, the dogs had trailed up the side of a hill and just couldn't get lined out.  They were cold trailing in all different directions but really not getting anywhere.  I figured there might be a kill somewhere close, just by the way the dogs were acting.  Sure enough we found a fresh deer kill. Ralph and I called the dogs back and began to make a wide circle around the kill, hopefully finding the freshest scent and getting lined out on the best track.  About halfway through the circle it began to rain and in about 30 minutes all scent was gone. There was nothing we could do except head for the truck.  We'd been beaten again!
On the drive back to the house I began to think of a way we still might get this lion for Ralph.  There was an old jeep road that we could take a four wheeler down and get to within about a quarter mile of the deer kill.  It was right off the highway that Ralph had to take back to the airport.  I suggested to Ralph that he pack all his gear in his car tonight, follow me down here to the jeep road in the morning and we'd take my side-by-side 4 wheeler with the dogs back to the kill and see if the lion had come back.  If it hadn't come back I could easily get him back to his car with plenty of time for him to get to the airport.  This is exactly what we did.
We started walking with the hounds at first light and didn't even make it all the way to where the deer kill was when the hounds blew out of there in a frenzy.  The lion had been back and was treed within 400 yards.
Ralph had a successful hunt with a little extra effort.  Plus he made it to the airport in time to catch his flight home.
I later shipped his trophy home to him after it was processed by the NM Department of Game and Fish. This was a great hunt and could not have happened to a more deserving individual.  Congratulations Ralph!