The ideal situation for any outfitter is: a great place to hunt, plenty of trophies, no other hunters, and great clients.  We have enjoyed all of this on our mule deer hunts. Plus we're proud to announce 100% success on our 2013 mule deer hunts.
For the last several years the same clients from the Houston, Texas area have taken our second rifle mule deer hunt.  Among them is husband and wife team, Daren and Stephanie Detmer.  It's pretty hard to tell which is the more serious hunter, Darren or Stephanie!  They not only cherish the trophy, but all events leading up to being successful or even being unsuccessful.  I'm talking about the sunsets, the vastness of this enormous country, the missed opportunities, seeing the baby javelina and quail, tracking a buck for hours to his bed, and all the other things that make a hunt perfect. Remember to enjoy it all when your on a hunt!
Here's a short story about Darren and Stephanie's 2012 and 2013 mule deer hunt with us.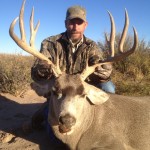 Darren's 2012 buck was tracked to his bed.  About midmorning we found where a group of deer had crossed a dirt road.  I could tell by the large tracks that they were probably bucks.  We trailed these deer not over 300 yards when all of a sudden 5 big bucks blew out of this mesquite patch.  It was antlers and elbows without any possibility of getting a decent shot.  We watched them run off.  We left them alone hoping they wouldn't go to far before they bedded again.  Several hours later we resumed trailing them and actually jumped them twice before Darren was able to get a shot.  With one shot, he took his buck at close range.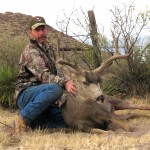 In 2013, Darren's buck was taken while glassing from a stand. I could see at least 20 good bucks in the herd when Darren made the 300 yard shot. Congratulations Darren on both your deer!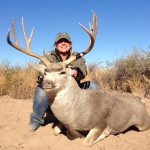 Stephanie's 2012 buck was spotted from a glassing stand late in the afternoon.  Mule deer were appearing everywhere out of the mesquite desert.  They were getting up out of their beds and slowly working their way towards an alfalfa field. We quickly moved about 600 yards to hopefully intercept this nice buck.  He was moving very cautiously and slowly towards the field.  Time was running out and Stephanie had to stalk out towards him to be in range.  She collected this nice buck shortly before sunset.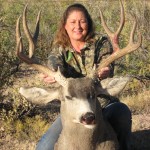 2013 found Stephanie hunting the same exact alfalfa field. This time she set up on the trail leading from the brush to the field.  I watched the whole thing from the glassing stand 600 yards away.  Mule deer were once again coming to life from the mesquites late that afternoon.  Numerous deer were slipping by Stephanie.  Many were really nice bucks.  The field already had about 40 to 50 deer out in it when Stephanie spotted the buck she liked.  She had to get by 3 to 4 other bucks that were only 30 to 40 yards from her to be in position for a shot at this one. One shot and she had her trophy!  She did a great job!  Congratulations Stephanie!!