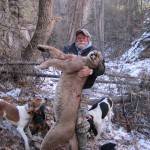 The ideal big game hound should have a good nose.  They must also have the desire to use it.  This desire, drive, heart, or whatever you want to call it is one of the most important traits to look for in a hound.  This story is about a dog I call Tramp, who has plenty of heart.
This story actually begins last February 2013 while on a mountain lion hunt with Mr. Billy Walls of Kentucky.  On the morning of the 6th day of the hunt, the dogs found the fresh track of a big tom lion and started trailing immediately.  Tramp has never been a great cold trailer, but always tried and was really good on a day old track.  He could smell this one and was leading the pack on the trail!  Billy and myself had to ride around several sets of bluffs to get to where the hounds had the big tom treed.  Tramp was under the tree barking treed and had a front leg flopping.  Somehow he'd broken his front leg.
After skinning the lion, Billy and I started riding towards the truck which was about 4 miles down the creek.  Tramp hobbled along behind exhausted packing his broken leg.  About halfway to the truck, he quit and just laid in the middle of the trail.  After dropping Billy and the lion off at the pickup, I went back and carried Tramp out in the saddle with me.  He underwent major surgery with rods, pins, screws and wire to put his leg back together.  After 3 months convalescing, he still couldn't use his leg and hopped around 3 legged.
About mid-July, I decided to exercise all the dogs, including Tramp.  I have a place not to far from the house that I can exercise the dogs with the four wheeler and figured he'd go as far as he could and I could either load him on the four wheeler or he go back to the truck.  Since I was only exercising them I didn't put any tracking collars on or have any tracking equipment with me.
I took off up the canyon with 21 hounds running loose.  They're always excited to be out of the kennel so we're usually moving right along at a fast pace.  About 6 miles up the canyon the dogs hit a fresh bear track and go squalling out of the canyon and in a few minutes they were gone.  I looked around for a bit and found where the bear had just killed a deer fawn.  I hiked to the top of the hill and could hear them treed in the next canyon over.  To my surprise Tramp had somehow made it to the tree too.  I had all 21 dogs treed on this bear.  I let them bark at the bear for about an hour and then started thinking about how I was going to get them to quit and get them out of there.  With considerable effort I managed to get all the hounds to follow me away from the tree, but when I got to the four wheeler I only had 16 of them still with me.  I took this bunch back to the house and put them back in the kennels.  I scooped up 4 more hounds on the way back to the tree and took them and left them in my horse trailer.  The only one I was missing now was Tramp.  I hiked back to the tree and neither the bear nor Tramp was there.  I never could tell which way they'd gone.  To make a long story short I never did find Tramp and he never came back to where we'd parked.  After 2 weeks of searching for him, I was pretty well convinced the bear had probably killed him.
In September, 46 day after the incident, a deer hunter called me and said he'd found one of my dogs.  At first I thought he must have somebody else's dog because I hadn't lost any.  Then I thought about Tramp.  He described him right down to his bad front leg.
Tramp was 8 miles away from the original tree.  He was skin and bones and he had multiple wounds from the bear that were mostly healed up and haired over.  Tramp had the will to survive all this time wounded and with no food!  This is definitely a dog with lots of heart!!!  In the picture, Tramp is the black and white hound behind Billy Walls. Billy got himself a magnificent lion and I finally got my dog back!