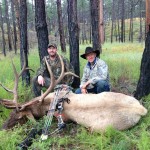 Southwestern New Mexico is well known for its beautiful weather.  September is probably the nicest month of the year here with green grass, warm days and cool nights.  We can still expect some occasional thunder showers in September, but normally they're tapering off by then.
This was not the case this September.  It pretty much rained the entire time during the middle archery elk hunt.  It was impossible to stay dry.  If it wasn't raining, the grass and brush were wet and as soon as the vegetation dried out it would rain again.  In many places, the ground was too boggy for the horses to go through so we hunted afoot.
Our clients for the week were Ken Woeste and Ted Braun.  Ken has hunted with us many times and I believe this is the first time he'd ever seen a rain drop, let alone the 9 inches of rain we received that week!! Ken and Ted were troopers.  We hunted hard every day and got close to some really great bulls every day.  The last morning of their hunt, we were headed back to where we had gotten to within seven yards of a bull in the 360 to 370 inch range when not to far from camp we heard a bull bugling in the distance.  We rode that direction and by the time we got close to where he should of been he was quiet.  We tied up our horses and I gave my bugle a squeal to see if he'd answer.  He bugled right back about 500 yards away and was coming our way.  I told Ken and Ted we needed to get away from our horses.  It was really open country with only a scattering of Ponderosa pines.  I didn't want the bull to see our horses, but it was to late.  We stopped and hunkered down in the open about 40 yards from the stock.  The bull kept coming straight towards the horses squealing every step of the way.  Ted took a broadside 40 yard shot as he walked by with his attention fixated on the tied horses.  The bull was only about 40 yards from the horses when Ted shot.  I'm not sure if the elk was more interested in the paint horse, the bay horse, or the black mule!  It sure would of been interesting to see how close he would of actually of gotten to our riding animals.  So much for camouflage, cover scent and perfect calling!
Ted's shot was perfect and he collected is first bull elk.  Congratulations Ted!!