December 2011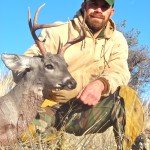 Dave Kleber, of Pennsylvania, took this fine Coues buck on the second day of his hunt.
The Peloncillo Mountains of unit 27 are really unique and beautiful.  They border Mexico to the south and Arizona to the west.  Normally these mountains are dry with only a scattering of springs and man-made water tanks.
The day before opening day of Dave's hunt, we received 8 hours of drizzling rain.  The normally dry creek bed that we were camped by, became a crystal clear stream by the end of the day.  By opening morning it had quit raining, but we were socked in with fog and clouds with very poor visibility.
Coues deer hunting requires lots of glassing from vantage points and visibility is a must.  We did manage to spot a couple of bucks through the clouds, but never had a shot.  The fog and clouds continued until about noon of the second day and then finally lifted to welcomed sunshine.  We saw 8 bucks in the afternoon and Dave collected this fine buck shortly before dark.
Congratulations and many thanks to Dave, who has taken mountain lion, elk and coues deer with us on previous hunts.