October 2011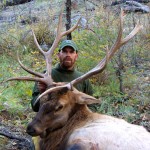 Dave Kleber of Pennsylvania took this 6 X 6 bull on the fourth evening of his hunt.  We had been into elk every day, but just couldn't seem to get a chance at a decent bull.  This continued into the fourth afternoon.
We were horseback when we spotted a bull a considerable distance across a major canyon.  We quickly dismounted and began glassing.  The bull moved into a small stand of timber and never reappeared.  We glassed for over an hour and decided he had either holed up in the timber or slipped out without us spotting him.
It was getting late and both Dave and I felt we had given this canyon a good look.  We were about to leave when we spotted another bull 4 or 5 hundred yards further up from where we had spotted the first one.  We were over 1000 yards from him and needed to make a move.  We rode around the head of the canyon and tied up one header short of where we'd last seen this bull.
After a short stalk, we were less than a hundred yards and Dave was finally able to collect himself this nice bull.  Persistence paid off on this hunt.
Congratulations Dave!