February 2011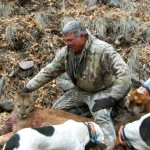 Marty Swyden of Oklahoma took this old tom lion on the fourth day of his hunt.  Marty was accompanied by his friend Gary Vancuren.
About mid-day, and after 8 miles in the saddle, the dogs cut his track and began trailing.  I was able to find the track and knew we were trailing a large tom and going in the right direction. Friend and fellow lion hunter, Brandon Jones was a few miles away with another pack of hounds trying to help locate sign.  I called him on the radio and he was on his way to put more dogs on the track.  He caught up within a couple of hours and we now had 18 hounds trailing.  By the time it was all said and done, we figured the hounds had trailed this lion a little over ten miles before they finally had him treed.
When we looked this tom over, we could see he was past his prime.  His teeth were really worn down, he had scars all over his hindquarters and the last few inches of his tail was hairless and wasn't really hooked to rest of the bones in the tail.
It was definitely a long ways back to the truck and trailer from where we finally treed this lion and we ended up riding about 3 hours in the dark before getting back to our ride out of there.  The mules, hounds and hunters were all whipped, but Marty had  collected a trophy tom lion and memories that will last a lifetime!  Marty certainly earned this one!!