October 2010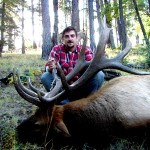 Elk had been bugling close to our camp all night before opening morning of our first wilderness rifle elk hunt.  At one point a couple of bulls thought our high lined horses were other elk and came up amongst them.  These bulls were grunting and bugling for several hours in the dark.
By daylight John Kloet of Michigan, Gabe Kloet of New York, and myself rode off in the direction of the now distant bugling. After riding about 20 minutes we realized we had gone by a bull.  He was bugling somewhere behind us, between camp and where we were stopped. We tied up our mules and walked just far enough to be out of sight of the mules.
We tried a bugle hoping he would answer and let us know where he was.  He answered immediately and it seemed he was wanting to come our way on his own.  We sat quietly as he continued to bugle and come closer and closer.  After about 10 minutes, we could see a small spike and this massive 6×7 bull walking straight towards us.  100 yards out and Gabe couldn't stand it any longer!  Two shots later and he had his first bull elk.  This bull is a terrific bull for his first elk ever.
Advanced scouting and all my pre-hunt work paid off on this heavy 6×7!