December 31, 2009 – January 1, 2010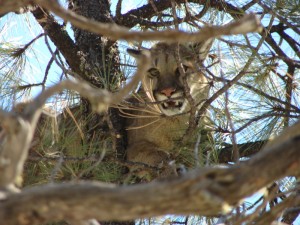 While mountain lion hunting here close to Lake Roberts, I treed this cat the last day of 2009 and then caught him again the next day on January 1, 2010.
We'd had a storm come through a couple of days before Christmas and dumped about 6 inches of snow.  Normally snow melts fast here and is gone in a couple of days.  However, it was really cold and this time the snow was slow melting.  I don't particularly like hunting in snow and prefer bare ground conditions, but snow hunting is usually more productive and has many advantages.
By New Year's eve day, the snow had melted off the south facing slopes and was no longer clinging to the brush and trees.  I'd already spent a couple of days re-shoeing my horses and mules with an equine version of  "mud and snow tires".  With a torch, we drip hard facing Boron in a jagged shape on the heels and toes of the horse shoe to help them with traction on slick rock, ice, frozen mud and snow.
I was riding up a ridge on the north slope when the hounds started bawling and trailing up the country.  There was about 5 inches of snow still here and after 10 hounds go thru, there's not much chance of seeing a track.  I went back a ways to a spot where everything hadn't been wiped out by the dogs.  The snow was so powdery it was difficult to determine dog tracks from lion tracks.  I finally did find the lion track and the dogs were going the right way on it.  They weren't going real fast for a snow track, but were steadily moving it.

I would find out how fresh the track really was when we reached the first south facing slope with no snow.  If the track was a few days old, the scent would be gone with the recent snow melt.  I knew it was worth letting them go on when the hounds trailed across the bare ground at the same pace.
When my little 20 pound black terrier started yapping and going with the hounds, I knew we were getting close.  They soon jumped this lion out of some bluffs and treed him in a small ponderosa pine about a mile further on.  It took several attempts to get the dogs to quit the tree, but I finally got them off and headed for the truck and trailer.
Julie had a New Year's dinner planned, but I couldn't resist going back and seeing if my other hounds could trail him away from the tree I'd left him in the day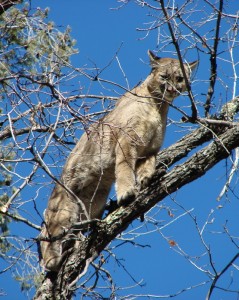 before.  As I approached the tree, the dogs started yesterdays track again and trailed right to the tree he'd been in.  At the tree, they kept on trailing at a pretty good clip.  The track was now about 22 hours old.  It was extremely brushy and me and my horse ate plenty of brush and sticks while trying to stay within hearing of the dogs.  After a long wild race, the hounds treed the lion again in an oak tree.  I was along ways from the truck and trailer so I called Julie on my satellite phone and she picked me and the hounds up at a closer rendezvous point.
Even though it was the same lion, I can't think of anything better than catching a lion the last day of the year, then catching a lion the first day of the year!