November 2009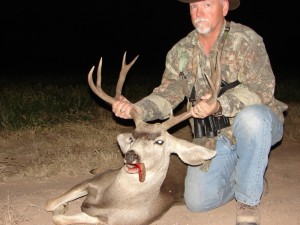 Frank Sullivan of Oklahoma, took this nice mulie on the 3rd evening of his hunt. Not to far away from where his hunting partner, Robert St. Pierre, took his buck.
Frank was sitting in an elevated blind about 1/4 mile from some irriagated alfalfa fields.  These blinds make it easier to see over the mesquite brush while glassing.
A little before dark, Frank spotted a group of bucks working their way towards one of the fields.  These bucks were a long ways off and Frank was running out of time since it was getting close to sunset.
He got out of his blind and took off trying to intercept the deer.  By the time Frank made it to the field, the deer were already out in the middle.  Frank made an outstanding 450 yard shot to collect his trophy mule deer.
Great shot Frank!