December 10, 2009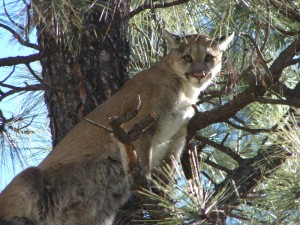 Julie and I live here at Lake Roberts on what we call Sapillo Creek.  There are some spectacular bluffs and rims on down the canyon from our home.
I was out tuning up the hounds, getting them in shape when I treed this lion in the Sapillo.  I was trying to find the track to see if the hounds were trailing it in the right direction, when the dogs jumped the lion out of one of the bluffs.  The dogs went squalling off further towards the bottom and treed.
I got the dogs off the tree and went over in the next canyon and waited about an hour.  I then returned to where I'd left the lion treed and the race was on again! We trailed and treed this mountain lion again.  I had some young dogs with me and this was some excellent training for them.
I took a few photos and videos and left her sitting in the tree.