October 2009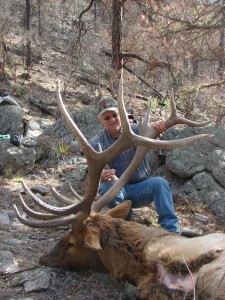 Patrick Hebert of Michigan, took this giant bull on our second wilderness rifle elk hunt.  Evidently, Pat's first shot must have hit a limb.   There were only a few drops of blood when we started trailing.  All we could do was try to follow his huge tracks.
We trailed this bull for 7 hours, jumping him 6 times before Pat could get another shot.  We jumped the bull the last time down in a really deep rough canyon where Pat was able to get a shot off and get his trophy down.
We weren't able to get the stock down to pack out his trophy, cape, and meat, so we ended up packing the quarters, cape and antlers out on our backs to the mules.  A lot of hard sweaty work! We were definitely ready for supper and a good nights sleep by the time all was said and done!!
A trophy of this caliber is well worth all the effort and hard work!  Good job Pat!